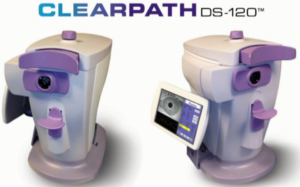 ClearPath DS-120
Northgate Eye Center OD, PA is pleased to present to our community the newest technology in diabetic testing available.  We are one of only a few sites in the state, and country, who can provide this cutting edge technology to you. 
Welcome the ClearPath DS-120, Diabetes Screener.
The ClearPath screener is a non-invasive test which does a quick 6 second scan of the eye to help the doctor determine your possible risk of diabetes.  This technology, coupled with the other tests we perform here will help preserve your vision and your health.
The DS-120 AVOIDS
a painful blood draw
the need for fasting prior to testing, and
the inconvenience of waiting several days for the test results.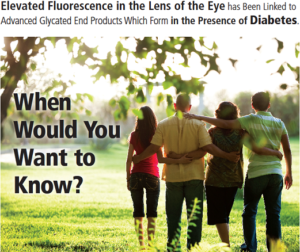 Diabetes is the leading cause of permanent blindness in patients under the age of 75.  With more than 86 million Americans living with pre-diabetes and nearly 90% of them unaware of it, doctors are urging patients to be screened for early risk detection.  Studies show that early detection combined with proper intervention can lower visual complications caused by diabetes by up to 76%.  Because of this, we now have new cutting edge technology that allows us to screen patients for their risk of developing diabetes and it's part of your eye exam today.
The ClearPath device takes a quick 6 second scan of the natural lens in your eye using light. This FDA approved non invasive test can identify a risk factor for diabetes that no other test can identify more accurately. It is an important tool in the fight against diabetes.